Modern and luxury sanitary facilities
There are three sanitary buildings dispersed over the campsite. All sanitary buildings have modern and luxury units which offer excellent privacy through the use of thick doors and walls from the floor to ceiling. Additionally, all sanitary buildings have underfloor heating and include facilities for toddlers and small children, family showers, baby rooms, and washing machines (the latter only in the building at camping field Fazant).
All our guests are taken into consideration
Heated sanitary facilities and fully equipped
All sanitary buildings have underfloor heating, have a modern and luxury finish and include baby rooms, family showers, facilities for small children, washbasins, wash cabins, and sinks for dishwashing. Washing machines and dryers are available in the sanitary building near camping field Fazant. The sanitary buildings at camping fields Fazant and Koolmees also include sanitary facilities for disabled guests. All our sanitary buildings have been renovated and modernised over the past three years and have luxury sanitary units. Furthermore, the two sanitary buildings at fields Koolmees and Braamstruik also include a whirlpool.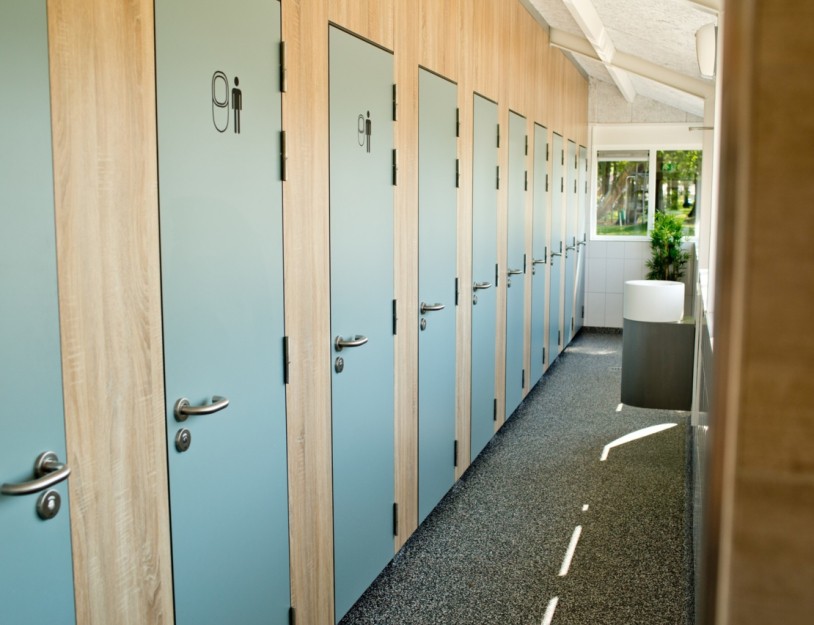 Nice hot showers
A shower card is needed to activate the hot water in the showers
On arrival, you will receive two showercards worth €2,50 per card, which offer you about 20 minutes of hot water per card. When necessary, you can top up the shower card at the reception or at the entrance of each sanitary building. When you leave, you need to return the shower card. Please note: any remaining balance will not be returned.
arrangement
An unforgettable holiday for you