Camping with swimming paradise
De Kleine Wolf is a five-star campsite with swimming paradise, located in beautiful Ommen, Overijssel. During a vacation at De Kleine Wolf both young and old will experience a lot of water fun. It is a true paradise for the real water rats among us. When the sun shines you can take a dip in the natural swimming water at the sandy beach or in the heated outdoor pool. If the weather does not allow it, you can visit the indoor pool. At our campsite you will spend the night on our spacious camping pitches or in one of the various rental accommodations.
Discover De Kleine Wolf
Discover the pool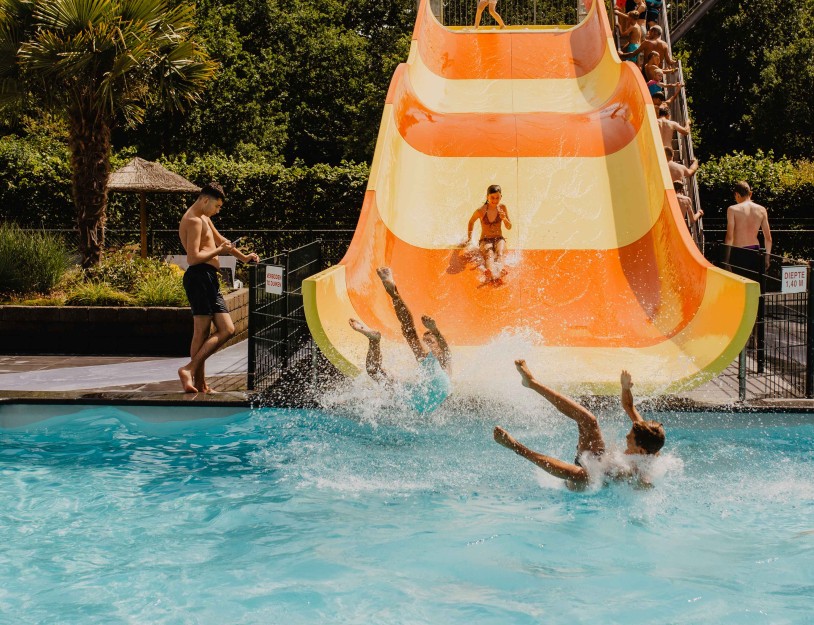 A large swimming paradise
Our heated outdoor pool is ideal for a refreshing dip on a hot summer day. The outdoor pools are surrounded by a sunbathing area with lovely loungers. Especially when the temperature rises above 25 degrees, people make frequent use of the two slides that lead into the deep pool. Does everyone in your family have a swimming certificate? Then you can all slide down our family slide at the same time, fun guaranteed! There is also a super-fast slide for the real daredevils and especially for small children there is a paddling pool where they can splash around.
Should the weather be too bad to take a dip in the outdoor pools, there is also an indoor pool. The indoor pool consists of a children's pool with slides and a large deep pool with a slide, rapids and a whirlpool. As a result, you will always have swimming fun in our swimming paradise.
Semi-covered swimming pool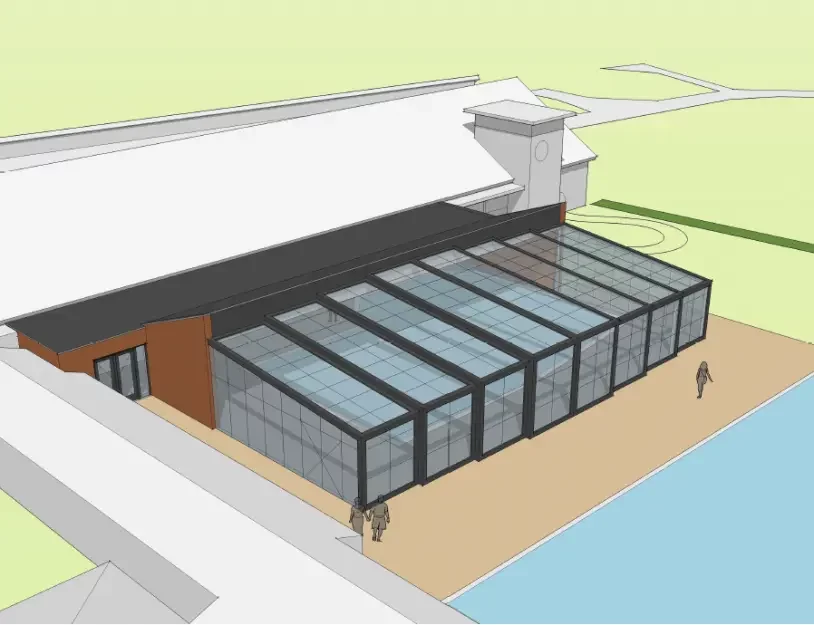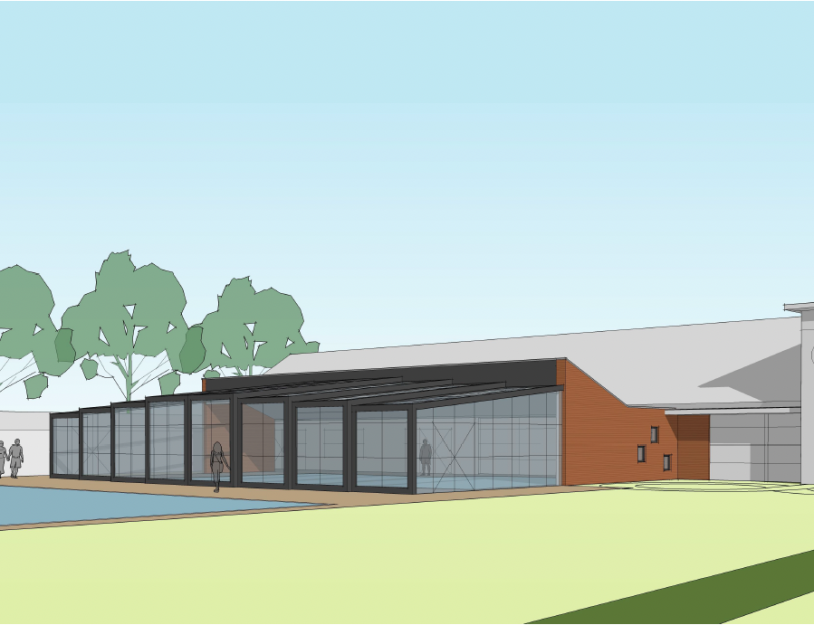 New
Semi-indoor swimming pool
Since the beginning of 2023, the indoor pool has been expanded and the toddler pool has become semi-indoor. What about good weather? Then we open the roof so that we can enjoy the sun. Rain or sunshine, we always have hours of swimming fun!
Slides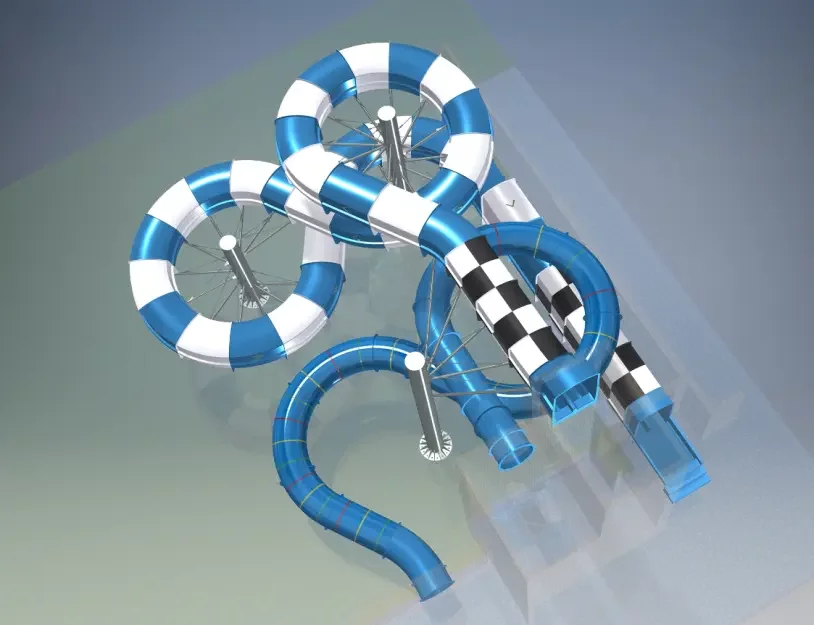 New
Super fast water slides
De Kleine Wolf has a super fast indoor duo water slide since 2023, which had never been built anywhere in the world. The new indoor slide is completely built in Formula 1 style. The slide in the indoor pool has not one tube, but two tubes so you can race against each other. In short, a lot of sliding fun is guaranteed. The water slide has a total length of over 160 meters and is therefore our longest slide in the swimming pool. The time is registered automatically so you can't cheat!
Indoor slide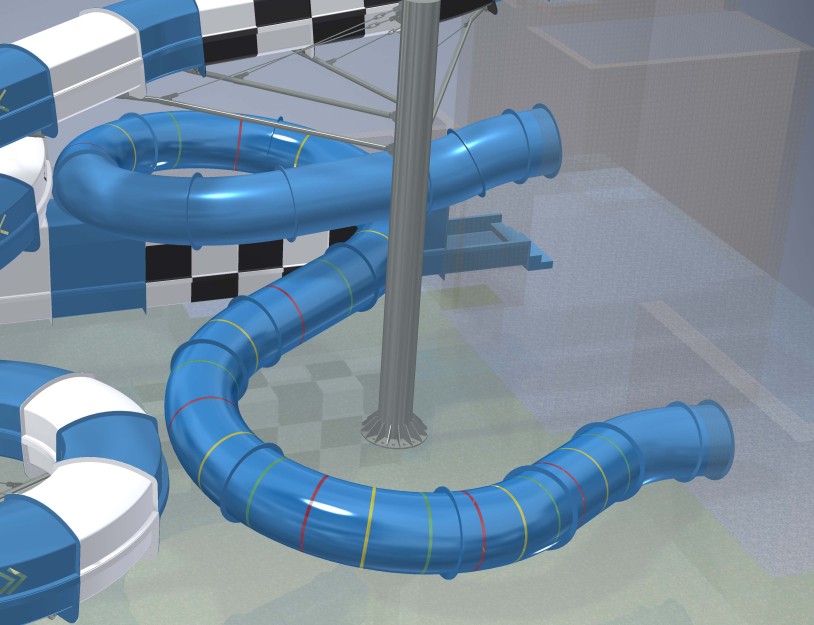 New
Indoor water slide with a special light show
In addition to the dual water slide, we have a new water slide since 2023! The current indoor slide has been replaced by a super fast slide with light-up rings. The indoor slide has a special light show, as the light rings give you the feeling that you are going faster and faster while sliding.
Outside pool
Enjoy the heated outdoor pool with spectacular slides on lovely sunny days and relax on luxurious sunbeds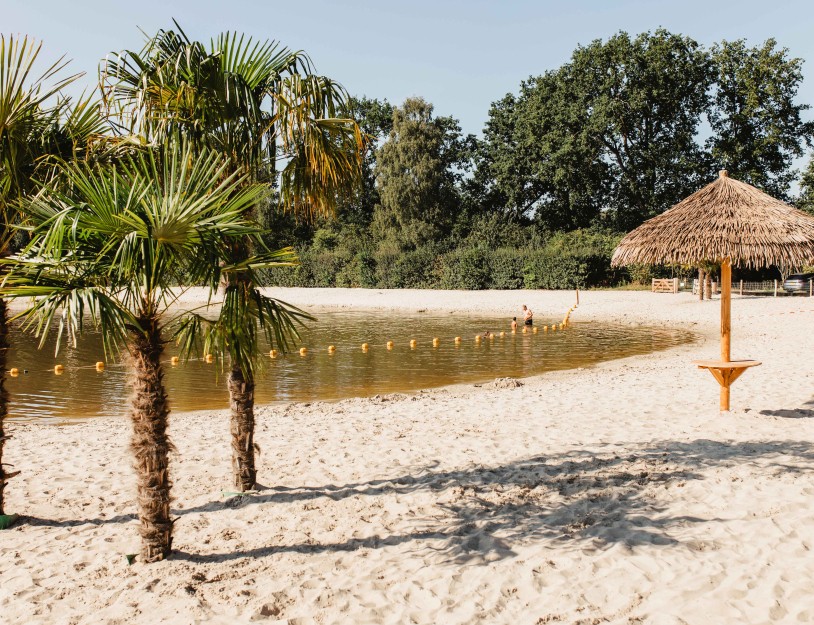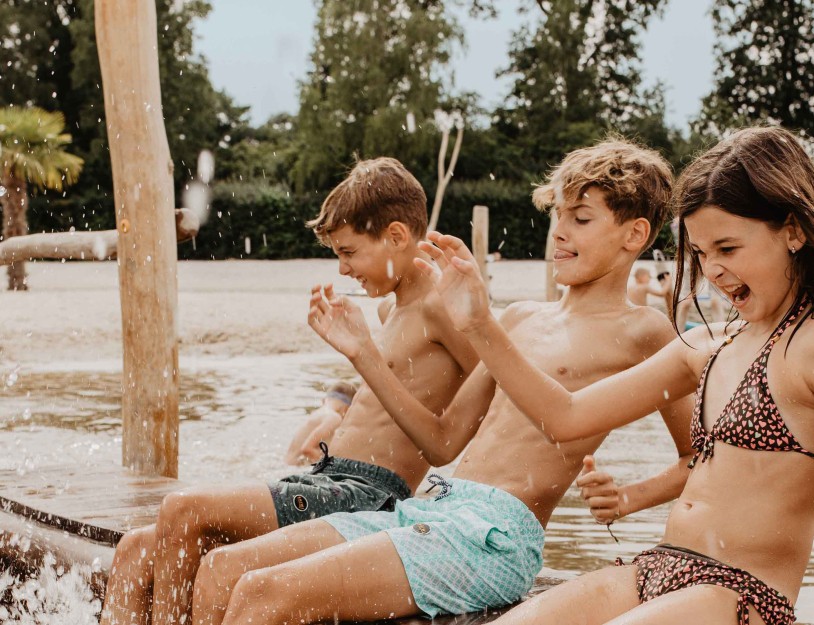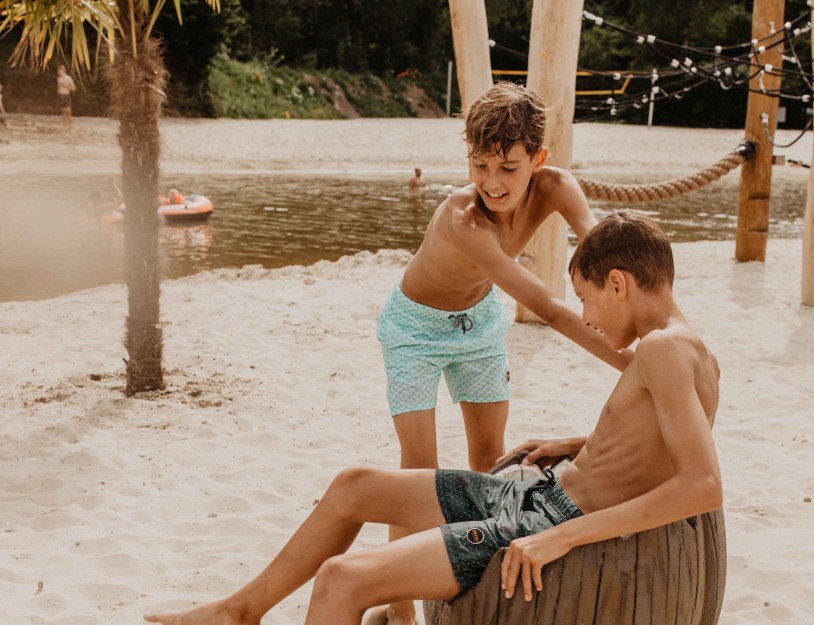 A sand beach with real palm trees and a beach bar
On a hot summer day it is great to take a refreshing dip in natural swimming water. The clear water borders a lovely sandy beach with real palm trees and the well-known beach umbrellas. As a result, you will immediately experience the summer feeling. From a sunbed you can keep an eye on your children and their vacation friends. They can have hours of fun in and around the water. The beach is packed with play equipment such as a cable car and water and sand equipment. The swimming pond is about 1 hectare in size and is filled with natural spring water. The shallow end is separated from the deep end, which is about 1.35 meters deep, with a float line.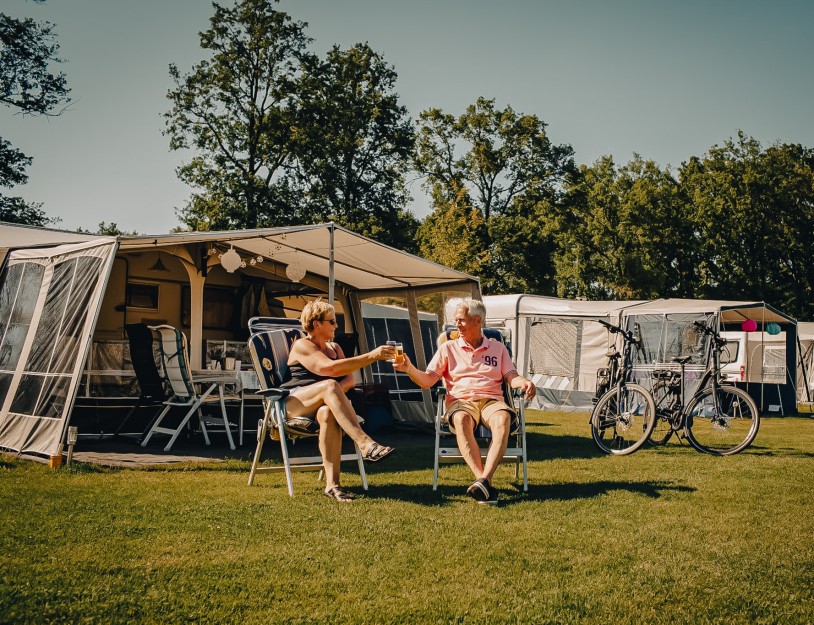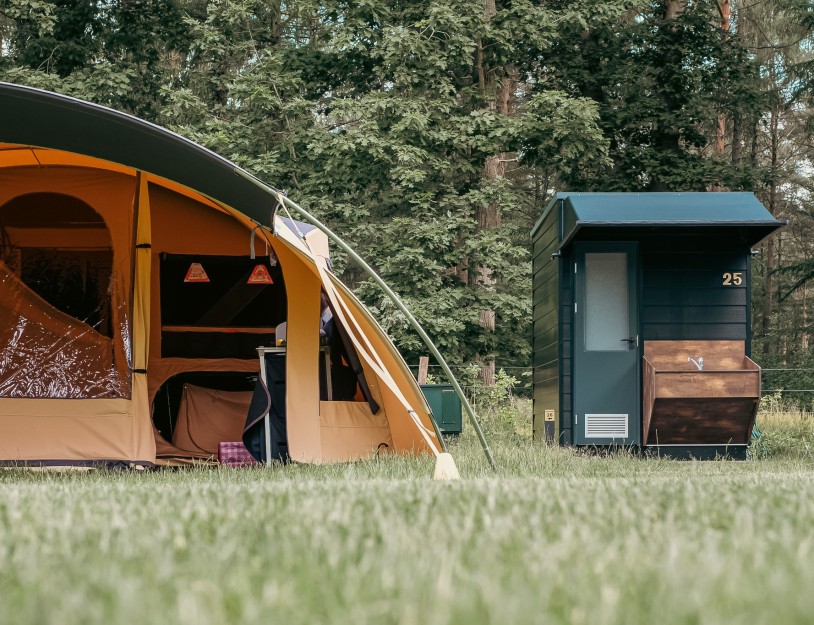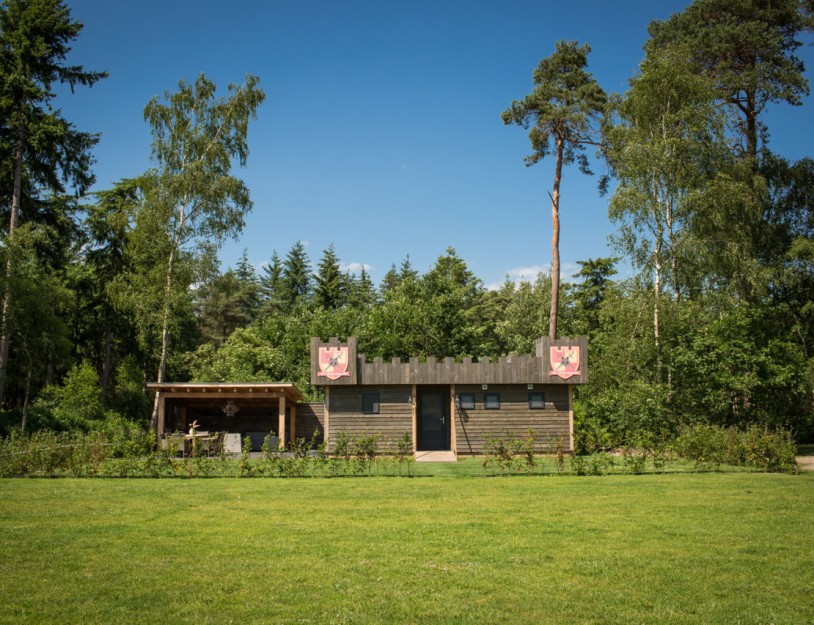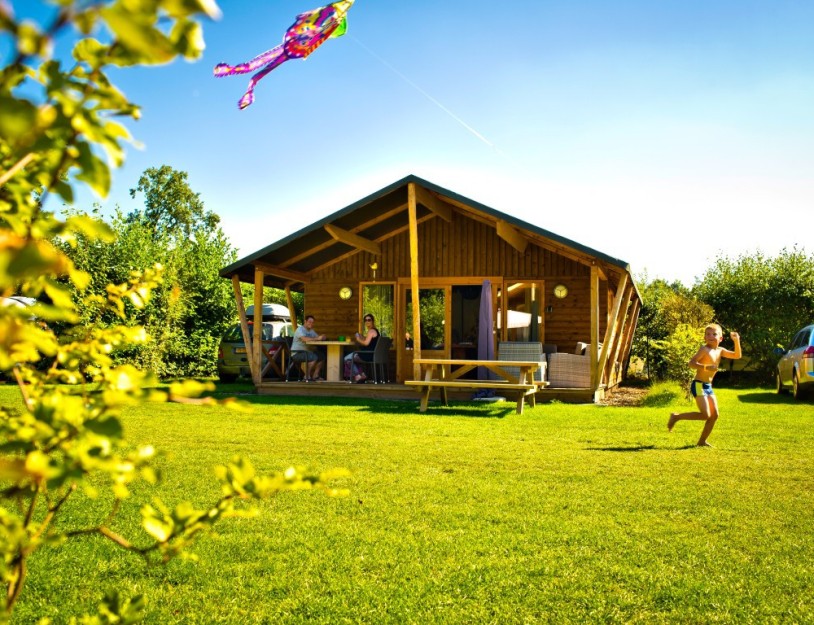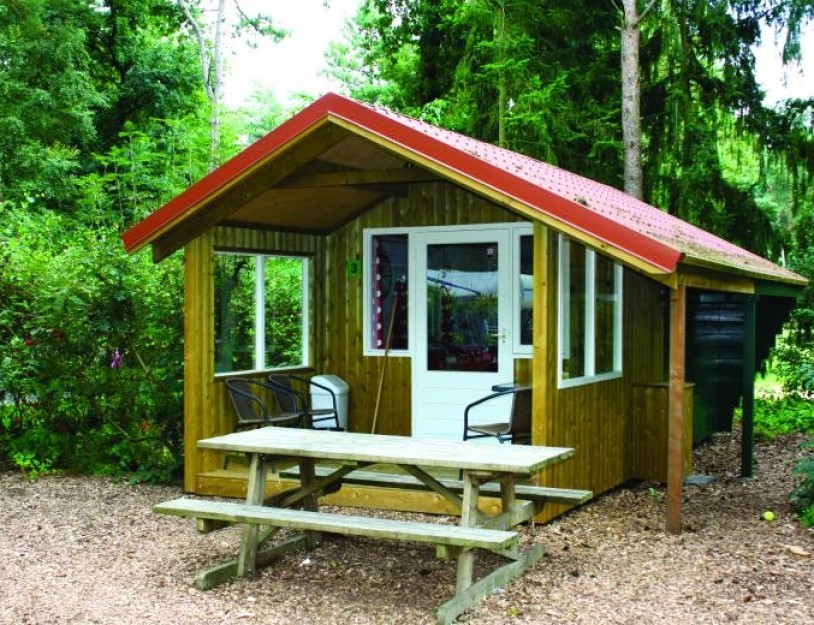 Spacious pitches and rental accommodations
At De Kleine Wolf you can stay with your own camping equipment as well as in one of our luxury rental accommodations. The pitches are fully equipped and offer plenty of space for your tent, trailer tent, caravan or motorhome. The rental accommodations range from glamping lodges to a castle and from a group farm to a hikers' hut. Both camping pitches and rental accommodations can easily be booked online.
Simply book your stay at our campsite with water park
Would you also like to experience an unforgettable vacation at De Kleine Wolf? Then simply book a spot on our campsite online. Whether you come with your own tent, caravan or trailer tent or want to spend the night in one of the many rental accommodations, you can easily book online. We look forward to welcoming you at De Kleine Wolf.
Book your stay now
Does The Little Wolf have an indoor and outdoor pool?

Yes, you can go swimming with us both indoors and outdoors. We have a heated indoor and outdoor pool. You can also have a great time at sand beach Playa De Kleine Wolf'.

Is there a lifeguard present?

Our lifeguards are present during busy days, weekends and school vacations. We ask that you keep a close eye on your children.

What facilities does the indoor pool offer?

There is a paddling pool for toddlers, a deep pool with rapids, spray fountain, bubble bench and a spectacular slide.

What facilities does the outdoor pool offer?

There is a paddling pool with interactive play elements for toddlers, a large outdoor pool and two spectacular slides, and luxury sunbeds are available on the sunbathing lawn.